THE OFFICIAL FREE - BAD COMPANY - PAUL RODGERS FANCLUB
Welcome to ARN News Updates from Allrightnow.com
New Canadian Band gets thumbs up from ARN
"Hand Over Fist Set To Drop Debut Record Toronto band Hand Over Fist has been making waves in the local Ontario scene and are set to drop their debut CD May 29 with a CD release party at the Corktown in Hamilton. The band was formed by California rocker Michael Ragusa who recently moved to Toronto and has been behind some very successful L.A.'s rock venues has toured as a sound and guitar tech with the likes of Tesla and more. The very charismatic Jinx Jinx, who has been a staple for years in the Toronto music scene, fronts the band. Their song Cry Out that will be on the new CD has already been met with rave reviews. "
Members: Michael Ragusa - Guitars, Jinx Jinx - Vocals, Mark Gelinas - Bass, Ken Cormier - Drums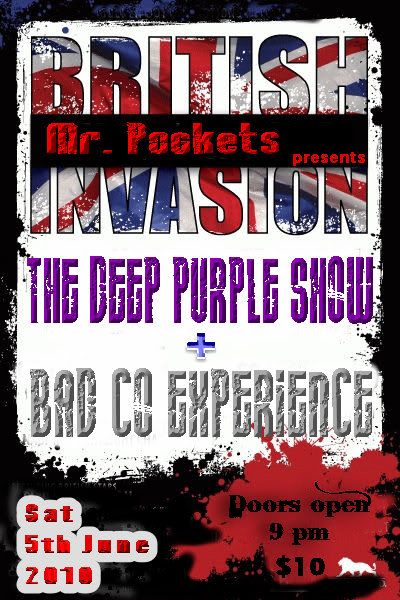 Andy Fraser To Appear In BBC2 Documentary Series "I'm In A Rock 'N' Roll Band"

Website: http://www.andyfraser.com
Music: http://www.andyfraser.com/bigone.html
NASHVILLE, TN (April 28, 2010) – Andy Fraser, bass player and founding member of the influential rock group FREE, will appear in a five-part BBC2 documentary series, "I'm in a Rock 'N' Roll Band, along with Sting, Roger Daltrey and Bon Jovi. The program is slated to begin airing on May 1.

Narrated by British music show anchor, Mark Radcliffe, "I'm in a Rock 'N' Roll Band examines some of the greatest bands in the history of rock 'n' roll from the perspective of the singers and musicians who were part of them. Highlighted bands include the Who, Free, the Doors, Bon Jovi, the Foo Fighters and others.
Executive producer Mark Cooper was recently quoted in Variety talking about the show: "We've captured over 100 interviews with rock 'n' roll greats while making this series, from Sting, Roger Daltrey and Jon Bon Jovi talking about what it means to be lead singer, to Jeff Beck and Slash on the role of the guitarist and interviews with drummers Phil Collins and Chad Smith. It's crammed with great stories, brilliant archives and graphics that bring the mythological moments of the great rock' n' roll bands to life."
The series is scheduled to culminate in a live studio setting where fans will discuss their favorite musicians and create the "the ultimate fantasy band." Viewers will be able to cast a vote for their ultimate rock 'n' roll musician online.
Fraser states: "It was a real kick to be able to participate in this show. It is great to get the thoughts and humor of so many mutually respected musicians all talking about a rock band from the perspective of its individual members."

Currently, Fraser is busy preparing for the release his next album, Andy Fraser…On Assignment, on the new, McTrax Music Delivery System, a streaming / delivery, download music / video service (subdivision of McTrax International). The first single and video from the project is "This is the Big One," an anthem which focuses attention on the subject of global climate change. Fraser recently had one of his bass guitars go on display at the Rock and Roll Hall of Fame and Museum, while his daughter, Hannah, who appears as a mermaid in "This Is The Big One," has face time in the recent Academy Award-winning documentary film, The Cove.

About Andy Fraser:

Andy Fraser has a unique place in the canon of rock 'n' roll. In the late 1960's, under the guidance of Alexis Korner and John Mayall - both "Godfather's" of the British blues scene - Fraser, a classically trained pianist, revolutionized the art of bass playing by harnessing the raw energy of the blues, re-energizing it with a hard rock edge for a new generation of listeners.

As a founding member of Free, Fraser helped to draft the blueprint for - and was one of the chief architects of - the blues-rock style that spawned the likes of Led Zeppelin, Foreigner and Aerosmith. With Free, Fraser wrote and produced some of their most groundbreaking and best-loved songs, including the worldwide hit, "All Right Now," recently honored with BMI's "Million-Air" award for passing 3 million radio/television plays in the U.S., making it one of the most enduring classics of the rock 'n roll era.

A tireless creator and a perfectionist with an eye and ear for detail, Fraser has written a substantial body of works including Robert Palmer's smash hit, "Every Kinda People." His songs have been recorded by Joe Cocker, Chaka Khan, Rod Stewart, Three Dog Night, Etta James and Bob Seger among others. Fraser has also helmed several post-Free bands - notably Shark and the Andy Fraser Band - and has released several solo works, including the albums, Fine, Fine Line and Naked…and Finally Free.

A survivor of both cancer and AIDS, Fraser is a strong environmental and social activist, and defender of individual human rights.

Watch Andy Fraser's video for "This is the Big One" here: http://www.youtube.com/watch?v=63qIoGpnrl8

Radio programmers may download a broadcast quality copy of "This is the Big One" via AirPlay Direct at: http://airplaydirect.com/music/andyfraser/

Fans may download "This is the Big One" for free at: http://www.andyfraser.com/bigone.html

To learn more about Andy Fraser, view his online Press Kit at: http://myPPK.com/go/andyfraser.aspx or visit his official website: www.andyfraser.com

THE HUNTER - RAW and SIMPLE
JANCREE
KLAUS SCHMID - DRUMS & PERCUSSION

CHRISTIAN GASCH - GUITARS

OLAF STEFFENS - VOCALS & BASS
"JANCREE ONCE AGAIN HAVE WRITTEN SOME OUTSTANDING ROCK SONGS
HOPE ONE OF THESE DAYS I CAN SEE AND HEAR THEM LIVE."
Well done guys !!!!
I would like to thank everyone who has
supported Allrightnow.com over the years !!!!! And THANK YOU YET AGAIN
for thinking of ARN this year once again, we have a
very busy year ahead of us.
Lots of great news coming to ARN shortly
PayPal securely processes payments for [email protected]
To send a check please request mailing address from [email protected]
Lucy Piller

HOLDCELL played last night in Marietta GA. This show by far was THE BEST SHOW/PERFORMANCE that I had seen from any of the bands this year. Congratulations guys..
Holdcell's "7 Heavy Grins" Album
Sample if you like: Kid Rock, Avenged Sevenfold, Crossfade, Mudvayne
Take the southern rock you know and add funk, blues, and raunchy vocals for the rock/metal concoction that is Holdcell. Combining these elements of southern music together makes this band a perfect fit for their southeast region, and sure to draw fans like moths to a flame (or good ole boys to a Jack and Coke). The trio adds outside influences like Latin flavor and reggae to their metal undertones making songs have their own identity, and not a 13 track repeat. The music is soft in the world of metal, and heavy in the world of pop. Bassist, Evan Hackney, creates prominent bass lines that add to songs, like "Ride", not just support them. This song is joined by a chorus giving it a gospel rock twist. The bands chemistry shows itself in songs like "Ring" where Chuck Smith (drums) and E. Hackney seem to play off one another. Four songs really stood out on the album. "1 Mo Time" is fun, soulful, bluesy, and catchy with Lee Hackney (vocals) grunting as he sings, "I think I think I was thinking too much", an all to relatable chorus. "Withhold the Faith" lightens up with delicate guitar, softer vocals, and more personal lyrics. An unexpected treat is "El Gallo" which has a Latin flare, horns, and a duel of Spanish singing to throaty chants. One of their best tracks off the album is "King", a sweeter, slower melody seeming to focus on self discovery.
Patrick Joseph Moore - To Africa with Love
Joseph Patrick Moore from Atlanta
Possibly the most exciting news segment since we announced our first tour with Simon Kirke and Terry Slesser.....
FREEWAY are currently celebrating the prospect of our first ever (the first of many, we hope!) major summer festival date. It has now been officially confirmed that Freeway will be appearing at the monster rock extravaganza that is the Cambridge Rock Festival 2010. We'll be appearing on the Saturday (7 August) afternoon (best day) on Stage One (best stage also) to warm up the crowd for the mammoth Monsters of Rock Saturday finale.
We will be playing the full Free Isle of Wight Festival set, originally played by Free in 1970 - exactly 40 years ago.
We will celebrate this monumental anniversary of one of the most seminal moments in British rock history in the true Free spirit - live, LOUD and full of soul and passion.
Freeway are extremely grateful to festival organiser Dave Roberts for giving us this chance to showcase what we do in such a spectacular arena.
Come on, folks...festival tickets are available at an amazing £79 for all four days.
Let's do it the way it was always meant to be done...with peace, love, sunshine (hopefully!) and over 70 different varieties of real ale. Magic.
with oodles of excitement from Elaine and everyone @ freewayband.com
Freeway - The Ultimate Tribute to Free and Paul Kossoff
INTHESTUDIO CELEBRATES 35TH ANNIVERSARY OF
BAD COMPANY'S STRAIGHT SHOOTER
U.S. syndicated radio show InTheStudio celebrates the 35th Anniversary of Bad Company's second album Straight Shooter. InTheStudio producer and Host Redbeard interviews Paul Rodgers, Mick Ralphs and Simon Kirke about life in the band while recording this sophomore effort.
To find out where to listen or to listen online, visit: www.inthestudio.net
Awesome FREE track Wishing Well
Phil Hilborne Live in Croatia